Boat Air Conditioner Installation Guide
NEW: BoatAC.net now offers remote technical support for customers who want to install their own AC units. We can help you design, spec and supply all the parts you'll need and provide technical support while you're installing your unit(s). We can travel to your boat or provide support remotely. Just fill out our service form and let us know how we can help you.
DIY boat air conditioner.

Can I install boat air conditioning system myself?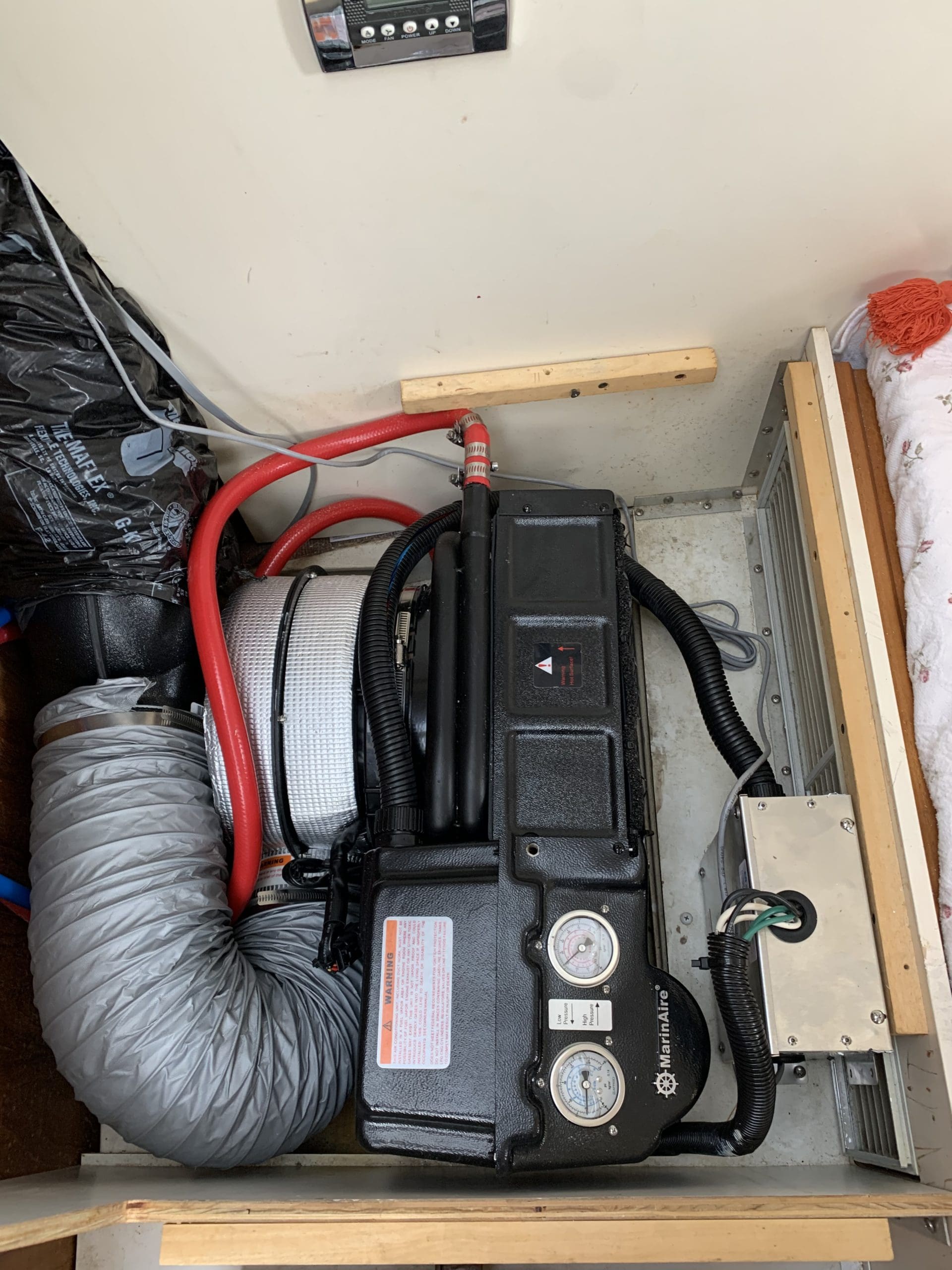 Yes! In the past few years, technology has improved a lot. There are now very efficient, small and quiet marine air units available with digital controllers, reversing cycles (heat and AC!) and integrated air handlers. If you want to install an air conditioning unit on your boat, you'll have some great options.
BoatAC.net usually recommends Marinaire and Mabru Power Systems ac units for boats. We also support Webasto, CTM-Marine and Dometic Marine. They're self-contained air conditioners and many feature reverse cycle heat pumps that can help you stay cool on warm days and warm on cold days in your boat's cabin. The installation can be complicated, so if you aren't comfortable with a 3+ day project, you should consider hiring a boat ac installer to help you install your boat's ac system.
If you have done a lot of boat systems work before, air condition marine a very serious project that involves many different systems. Sailboat ac can be even more complicated with more difficult hull access in some sailboats. Check out our articles and video on how boat air conditioning works for some additional insights about what's involved.
MarineAC Installation Guide
What are the steps to install an air conditioner on my boat?
Design the system. Determine how many cubic feet need to be climate controlled. Determine how many units of what size(s) of boat airconditioning systems are needed. Manufacturers of boatac units can often help. Common brands of boat air conditioners are Marinaire, Aqua Air, Webasto Marine, Mabru Power Systems and Dometic Marine (who acquired Cruisair)

Procure the unit(s). Depending on the brand, there are some lingering supply chain delays 

Plan the installation. Where will all the major components go? Where will I mount the unit? Can the ductwork reach the places where you want the cool/hot air? Where will the return air grill go? What marine ac water pump do I need? How many GPH water flow will I need in my air conditioning pump?

Sleep Comfortably on Your Boat!

Purchase the accessories needed for the installation:

marine-grade ductwork

air returns and vents that match your boat's finishes

marine-grade wiring and connectors

circuit breakers and panels

shore power connections

marine-grade plumbing fittings, clamps and hoses

water pumps (circulation pump(s) and condensation pump(s))

fine finishing tools for cutouts in fiberglass, marine plywood and interior woods

strainer(s) and strainer basket(s) with water discharge and underwater hull intakes

Clean out space(s) where you'll install the unit(s). Sometimes this will require re-wiring and/or re-plumbing other systems. BoatAC.net brings custom made plywood boxes that the same size as specific units to test access and spacing

Install water circulation system (through hull, strainer, water discharge, plumbing, pumps, etc). Make sure any below waterline intakes are properly sealed, installed and include the appropriate cutoff valve. We sometimes install custom-made fittings to make winterizing easier. Try to keep the strainer and pump close together and below the water line so the system will prime itself and so the pump will not cavitate.

Install shore power - properly size to fit your planned unit(s). They can be either 110 or 220 volts. Run dedicated circuit panel(s) for power to AC (we recommend running your boat AC system on a dedicated circuit). If you're going to run off a generator or batteries, consult repair servicing of the manufacturers for recommendations. 

Cut holes for ductwork, returns and vents. Make sure you use the right tools and blades for clean cuts depending on the materials

Install ductwork and returns (depending on access, you may need to do this after installing the unit)

Install dedicated condensate pump and run the plumbing to the water discharge (above water level). Generally, you shouldn't run the circulation and condensation systems through the same plumbing because they pump very different volumes of water

Install the thermostat and run the wiring back to where you'll install the unit. Like all wiring, make sure you use appropriate harnesses and keep it free of moving parts, water and heat

Place unit into place and secure it. You'll often have to take apart and replace cabinetry and/or build custom shelving or doors to find the best place. Make sure that the gauges and key connectors are visible and accessible

Some boats may benefit from multiple marine ac units

Connect the plumbing, power and air ducts to the unit. Ensure that you use marine-grade clamps. We use 2 stainless marine-grade hose clamps on all circulation system components and prefer barbed fittings wherever available

Turn on the marine ac pump (ALWAYS make sure you have water before turning on the power). Make sure the pump is pumping with no leaks and the right volume exiting the water discharge. See "the bucket test" on our Troubleshooting page

Turn on the electricity. Check the thermostat display for any errors

Test both cooling and heat if possible. Confirm that the condensate pump is discharging the condensation.

Alternately, you can call a boat ac installer  - like BoatAC.net or fill-out the form below and we'll be happy to help.

Once you're finished, enjoy cool nights in the summer and heat to extend the season!