Winterizing Marine AC Systems
Marine AC Winterization Special
BoatAC.net will clean air filters, clean your seawater lines and blow the water out of your Marine AC system for up to 2 units for $350!
Marine Air Conditioner Winterization and De-Winterization
After a boating season using your boat's air conditioning system, you'll need to winterize your marine ac to ensure that it doesn't freeze during the winter. Before shrink wrapping or covering your boat, you want to make sure that you avoid freeze damage in your boat's AC system.
One of our most common service calls is boat owners calling us because of leaks or performance issues when they turn on the AC on their boat. Sometimes, the issues are simple clogged filters or tripped breakers. Other times, we learn that the boat's ac unit wasn't properly winterized and the water left inside it had frozen and damaged the unit.
Unfortunately, frozen water inside marine ac units can make them very difficult and expensive to repair. In most cases, we end up replacing those units and related components. We strongly recommend that you winterize your boat's A C system before storing it for the winter.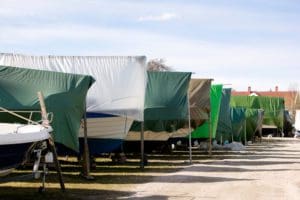 BoatAC.net offers an all in one service to help you prepare your boat for winter and ensure that your boat's a/c starts right up and runs well next spring. Instead of using antifreeze for boat ac, we will use high pressure air and custom-built tools to remove all the sea water from your boat's circulation pump and lines. We can also help you with dewinterizing boat ac as your prepare for your boat air conditioning spring startup.
Our comprehensive boat ac winterization service includes:
Test your marine AC before we begin marine ac winterization. We can help you fix or replace any components that aren't functioning properly. We can test in the water or on land
Clean out, or replace if necessary (additional fee may apply), all of your marine air conditioning air filters. Note that most boat ac units have more than one air filter
Use our specialized tools to remove debris and barnacles from your ac unit, circulation system, salt water pump
Use high pressure air and special fittings to winterize boat ac circulation system by removing all fluid. We prefer this to using anti freeze because it's cleaner, faster and creates less waste
Because we also install and repair all types of marine air conditioners, we're able to quickly fix most issues when we come out to your boat.
If your sailboat, powerboat or working boat has an air conditioner or multiple AC systems, give us a call. All of our marine ac technicians come prepared with specialized training, a truck full or parts and a warehouse with new marine air conditioners. We work with all brands, but usually install Marinaire and Mabru marine AC systems.
Please note that we also repair and install marine heat pumps. You can learn more about our marine heating services. Give us a call or click on the button below to schedule service. We are happy to help you de winterize your cooling system and boat's ac pump to get ready for the new season.
We suggest that as you begin de winterizing your boat that you test your marine air conditioning to ensure it's ready to work for the new season. However, you'll need to make sure that your system is connected to enough power and a steady flow of water. The video below shows the solution we use to test marine a/c systems on the hard.