Get A Quote or Schedule Marine AC Service
Can I have whisper quiet marine air conditioning?
Yes. First, let's discuss the components of your marine air conditioning system that make noise - in order of what are usually the noisiest:
The air conditioning pump, otherwise known as the compressor, that compresses the refrigerant as part of the ac cycle
The circulation pump (aka salt pump or raw water pump) that moves seawater through the water line to remove the heat (or cold, when running reverse cycle as a heat pump)
The air handlers that suck cabin air through your returns, push it over the coils and then through your vents
The return air grills and vents can cause noise, especially if they're too small for the amount of air flowing through your system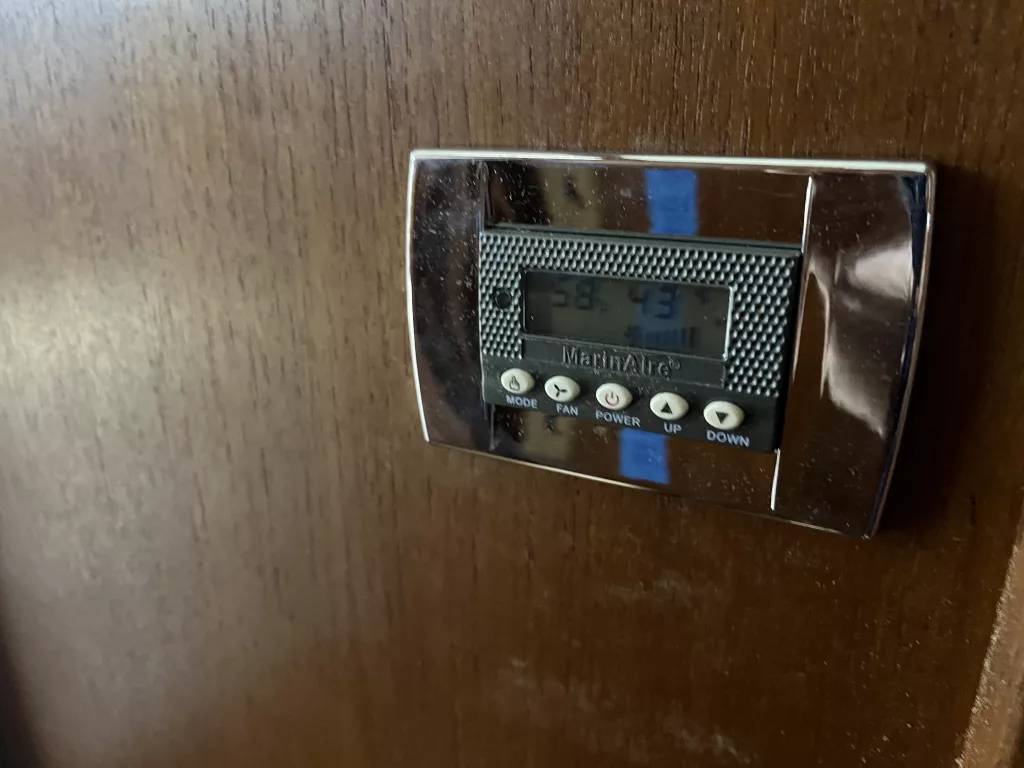 To reduce the noise in these components, there are some common themes to ensure that your boat's HVAC system operates quietly.
Purchase (a) unit(s) that are well made and efficient. We prefer Marinaire units that include extra noise insulation around the key components - the compressor and fans. If your boat has an engine room, try to install the noisiest components there as most are already well sound-insulated
Make sure your return air grills, ductwork and vents are sized correctly. If there are any obstructions to free flowing air, they can cause excess noise. Additionally, keep in mind that closing or opening vents can impact the noise level at other vents. You also want to make sure you don't block the returns or vent grills with objects that will obstruct their flow
Keep your air filters clean. Most units have more than 1 air filter. This will help with air purification and help reduce noise. We detail this on our Troubleshooting Boat AC page.
Be very deliberate about where you place vents relative to sleeping quarters. Make sure those vents can be adjusted for volume and direction
Keep your strainer clean. A dirty strainer adds resistance to your salt water pump which makes it noisier. This also adds unnecessary wear on your entire boat air conditioning system as the heat exchange becomes less efficacious. You also want to make sure your intake and overboard discharge are free from debris and sea life.
Occasionally, inspect your condensing unit and blow air through it to clean it. Be careful not to damage the coils. They're extremely sensitive
If you have a split system or a chilled water system, inspect and remove any debris you find on the coils regularly. They tend to get dirtier faster as moisture often isn't removed as quickly as in self-contained units which makes dust stick faster
If you hear any notable changes in the volume level or pitch of your boat air conditioning unit or detect hot air (when it should be cool) or believe that water temperatures might be out of operating range, consult your manufacturer's manual or technical support or give us a call
Make sure the circulation pump for your marine ac is properly sized, placed as close as possible to your cool water inlets in the hull and running well
Install a separate condensation pump so that your bilge pump isn't running throughout the night. The condensation pump can be much smaller and quieter than a typical bilge pump. We can also install specialized devices that use the pressure of the circulation pump to suck out the condensation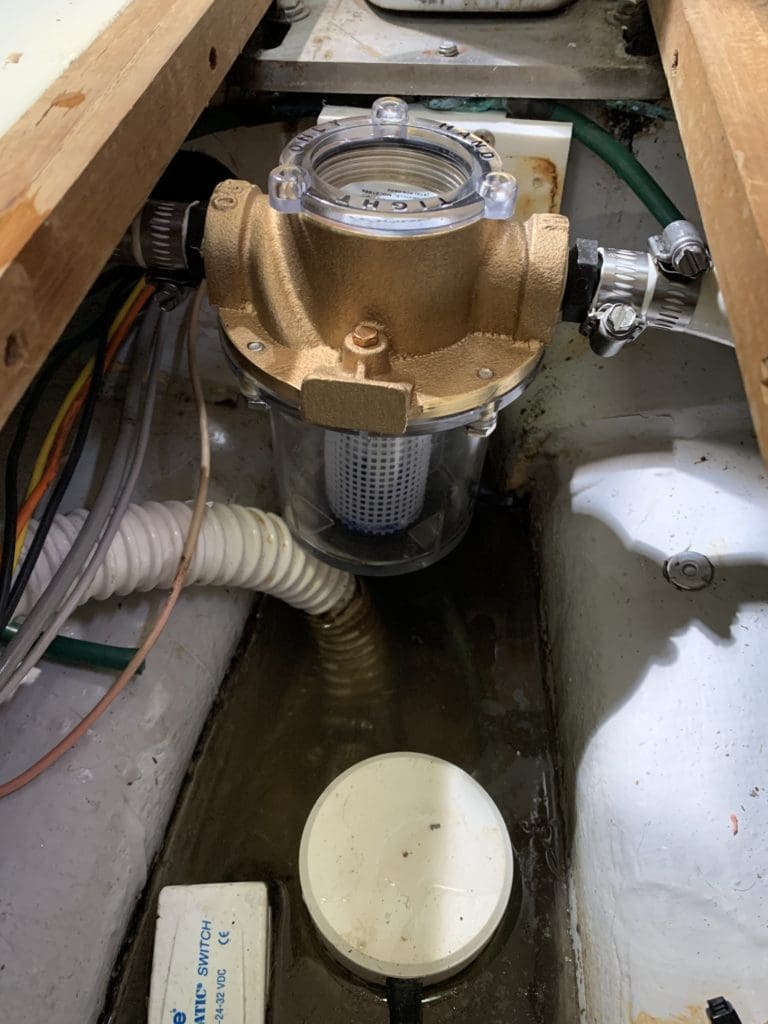 Can I run my boat's air condition on battery power?
Generally, you can't run your boat's AC system on a standard battery setup. However, there are some powerful lithium ion systems that can run marine air for 8+ hours.  We have installed some of these - usually with Mabru units.
We have found that their costs are about 3x that of plug-in shore power systems. They also usually involve adding advanced monitoring technology to take care of the needs of banks of lithium ion batteries. You can learn more on our 12v marine ac page. We can help with marine air conditioning installation for DC and AC systems.
How much does it cost to install marine air conditioning on my boat?
Costs to install air conditioners can vary A LOT. We are happy to give you an estimate based on your type of boat and configuration or come to you boat for a consultation to help spec out and price your installation. We can usually do that within a week. If you are looking for marine air conditioner repairs, we can also help.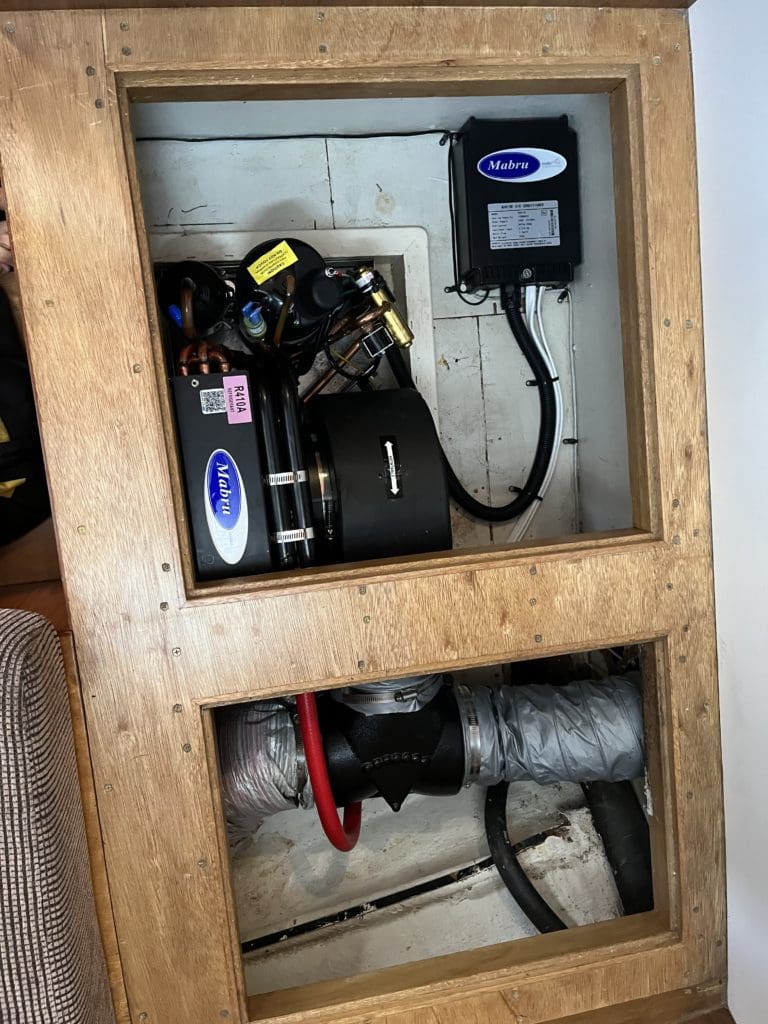 You can check out our  DIY boat AC installation guide if you want to learn what's involved to install a new boat ac unit, whether it's a 7000 btu marine air conditioner, an 18000 btu marine air conditioner or a 16500 btu marine air conditioner. We recommend Mabru air conditioning and Marinaire marine air conditioners, but can work with Dometic Marine or other suppliers.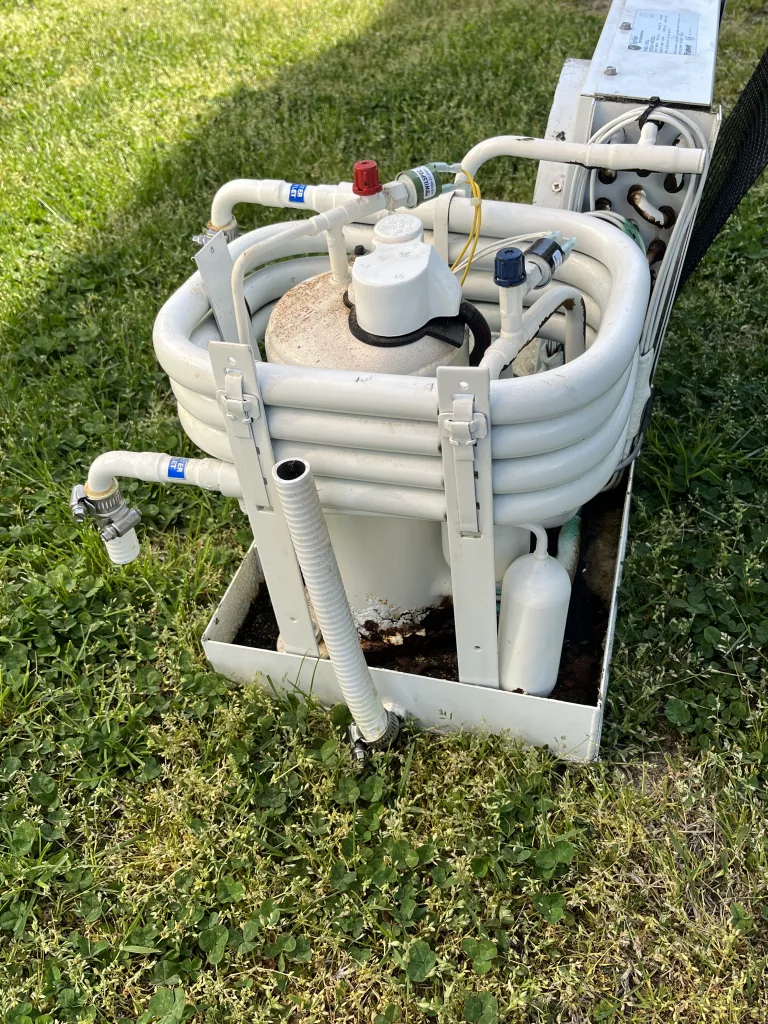 I'm a boat owner and I'd like to get a quote for a marine air conditioner installation. How do I do that?
The easiest way is to fill out the form at the top of this page. We will get in touch quickly to discuss your project. We're often asked "do boat air conditioners also heat?" and the answer is that most units we install support reverse cycle hearing.
How do I replace my boat air conditioner near me?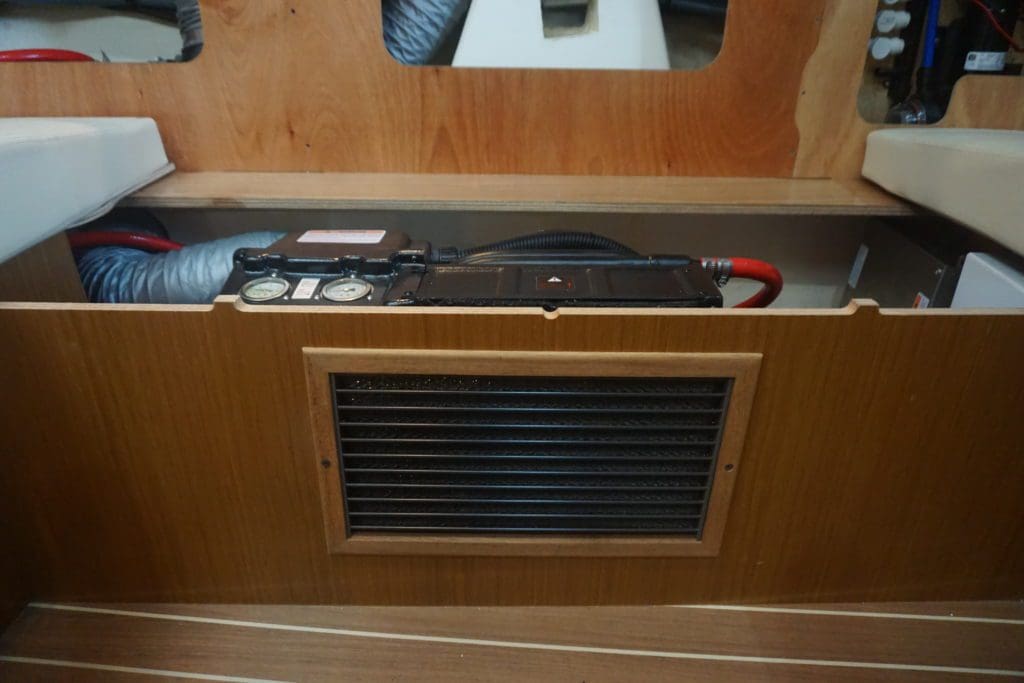 You definitely want someone with years of experience installing and repairing marine ac systems. We serve the east coast with a focus on the Annapolis and Eastern shore areas in Maryland, the Delaware Bay are in Delaware and Brick Township and Cape May in New Jersey. Fill out the form on this page for more details.
When should I install a replacement marine air conditioning unit instead of repairing my boat ac system?
Most boat AC systems last 5-10 years. And, they usually cost more to fix after about 5 years than the cost of replacement. If your compressor is running AND your unit is blowing warm air, it is probably not worth fixing (refrigerant leaks are tough to find and usually indicate other problems).
Many new systems from vendors like Marinaire and Mabru are much smaller marine ac units than your boat likely has today. Updating can save you a bunch of valuable space on your boat.
Watch this video about troubleshooting my boat ac for suggestions on what to look for if your marine ac system has error codes or isn't blowing cold air. You can also visit our troubleshooting marine AC page for step-by-step diagnostics.
BoatAC.net can help design a boat ac system for your vessel. We have worked on boats from 25' to over 90'. We have installed 6000 BTU AC Units through 24000 BTU marine AC units.
We are experts in updating and servicing marine air conditioning on Viking, Ocean, Hatteras and other large power boats. We respect the incredible craftsmanship and finish of these beautiful boats and ensure that our installations and repairs are of the same quality.
How hard is it to install ac on boats?
The short answer is that it depends, but is often a many day project for people who don't do it for a living. It often requires many special tools and dozens of specialized connectors, valves, hoses, ducting and other miscellaneous parts. We detail it in our DIY boat AC installation guide.